Have you ever wondered what some of the most influential business leaders work desk looks like? Are they tidy, messy, do they have pictures of loved ones or gadgets close to hand? And why do they keep their desk that way; is it a place of function to get work done or an area of creativity and a home from home?
Comprigo, a product comparison website, asked 16 business leaders of startups, established companies and multinational giants what their work desks look like, and what it means to them. Here are the highlights of the Lionesses on the list.
Let's find out what they had to say. Here's what successful leaders keep around them.
Monika Bhasin, Founder of the Glyd App
Here's how Monika's desk represents her workdays
Monika Bhasin is a founder of Glyd, an app that connects travelers with local guides.
"My desk represents my day: double screens to multitask on a zillion open windows, Chinese stress balls for when work gets a little overwhelming, my vision board to keep me focused and driven day by day, a legal pad to always note down to-do lists or any other notes I need to remember, pictures of my hubby and pups are always there to remind me of how much I'm loved and blessed, a golden crown full of beauty products to remind me I AM the queen! Bunch of phones for testing GLYD in QA, and a current book I'm reading: The Gift of Fear.  Fear isn't always a bad thing, it drives us to be our best sometimes."
Rebecca Newenham, Founder of Get Ahead VA
Here's how Rebecca's desk adapts to her work needs
Rebecca is a founder of Get Ahead VA, a virtual assistant business support agency.
"I have a height adjustable desk which allows me to sit or stand. I try and keep my actual desk as clear as possible. My essentials are: iMac, VoIP phone, Pen pot, notebooks, light, glasses, sunglasses, 'To do' list and two candles to adapt to my mood and enhance concentration."
Carly Thompsett, Owner of Anaphase Store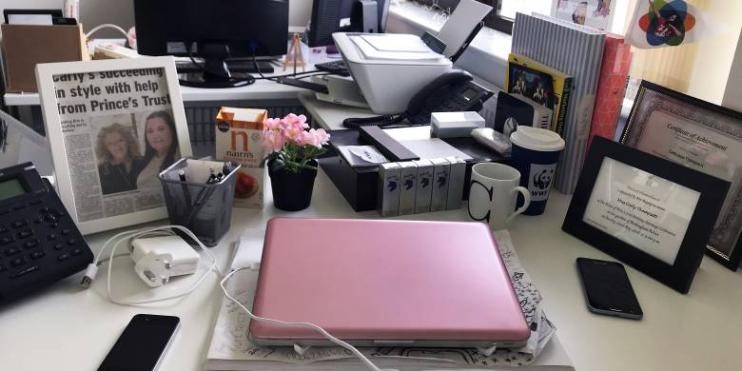 How Carly describes her work desk
Carly's business,  Anaphase Store, is an online business that has been supported by the Prince's Trust and is based in Cardiff. They design our own unique slogans and prints for adults and kids!
"Carly owns the business solely her own so her desk is full of random stuff including my invitation to Buckingham Palace this May, the certificate I got for passing an employment law course and an article from the paper I was in."
Michelle Kennedy, Founder of Peanut
Here's how Michelle uses her desk to connect with others
Michelle Kennedy is a founder of the community app Peanut that connects like-minded mothers.
"What you can't see in this image are the boxes of Peanut swag tucked behind me, which makes the office extremely 'cosy'. One of my investors recently gave me some Goopwellness supplements, and I'm not just saying this, I honestly feel better, I start every morning with them. Also on my desk is a photo my best friend took (he's a keen photographer), it's a peanut on lines of code, and I couldn't think of anything more perfect."
To see the complete list of founders and their desks, click here.
Comprigo is a product comparison website and chrome extension that helps users find the best products at the best price and rates online. Working in 13 countries, including the UK, USA, Germany and France, Comprigo uses real-time data the Comprigo comparison delivers live results, which the user receives as they are in the midst of the decision-making process.